Made-To-Measure
We understand that all people do not fit within the size boxes that have been established within the fashion industry.
In order to cater to those that do not fit within the size ranges provided, we offer you the option of Made To Measure.

Made To Measure is a service where our customers measurements are taken either virtually or in person at the Fe Noel atelier.
Based on your measurements, the previously selected style is cut and sewn for a custom garment made just for you.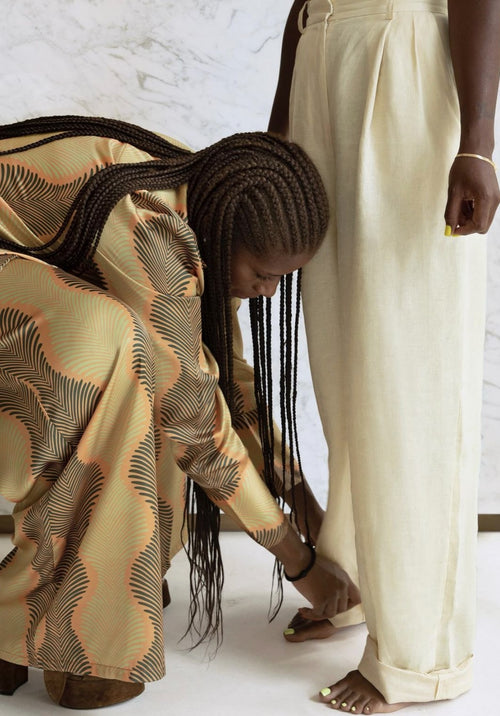 Shoulders
Stand in front of a full-length mirror with your back straight and your shoulders relaxed. Extend the tape measure from the outer edge of one shoulder to the outer edge of the other. Keep the tape parallel to the floor. Look at the number in the mirror or carefully bend your head to look at it without changing your posture.
Bust
Measure underneath your arms at the fullest part of your chest.
Waist
Measure at its narrowest point width-wise, usually just above the navel. Keep it parallel to the floor. Do not hold your breath or suck your stomach in. Hold your body upright in a comfortable standing position to get an accurate measurement.
Hips
Wrap the tape measure around the fullest part of your hips and butt. This is usually located 7 to 9 inches (17.8 to 22.9 cm) below your natural waist. Keep the tape measure parallel to the floor.
Inseam
Measure the inside leg (Inner thigh to floor). Use a tape measure to measure the length of your leg from your ankle up to the top of your upper thigh. You should be standing with your legs straight while this is done. Round the number up to the nearest half-inch.